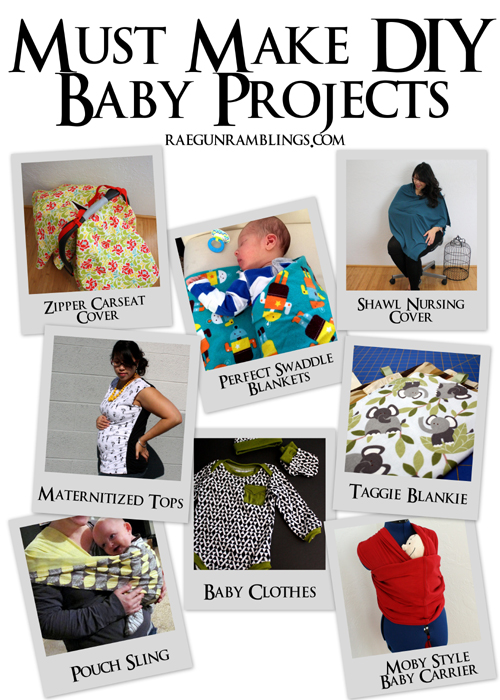 Hi friends Marissa from
Rae Gun Ramblings
where I blog about all thing crafty, delicious, and bookish. I spend most of my days sewing for my
Etsy shop
where I sell handmade baby clothes and fan stuff for Young Adult book lovers.
I'm so excited to be here for the DIY Babies series. I just had my first baby less than 3 weeks ago and I've been busy making a ton of fun baby stuff. I wanted to share some of my favorite DIY baby projects that I made and plan on making for my little one. If you're expecting I hope you'll find this list helpful or share it with your friends who will be adding a new little one to their life.
Zipper Car Seat Cover – I wasn't sure how often I was going to use the zipper peep hole but it was such an easy addition I added one when I made my car seat cover. But as it ends up I use the zipper ALL THE TIME. Seriously it's so nice to be able to just sneak a little peek and not disrupt all the light and temperature underneath. The tutorial can be used to make just a regular cover or a cover with a zipper.
Perfect Swaddle Blankets – The swaddle blankets that they sell in stores are just a bit too small unless you buy the really pricey ones. I know that my baby (and all those in our family) really benefit from being swaddled and these blankets are so easy to make. Also they are perfect for so many other uses like make shift nursing covers, cozy comfort, warmth, and even a changing surface.
Shawl Nursing Cover – This knit nursing cover is fantastic because the baby can't kick it off. I used this cover to nurse my 2 week old in the middle of a kiddo birthday party and let's just say my little guy still isn't great at getting going but I wasn't afraid of being exposed while he figured out where he was supposed to be. Another perk is that this only requires one line of sewing!
How to Maternitize Tops – I hated the idea of spending a lot of money on not so cute shirts just because they would fit my baby bump. I ended up sewing a lot for myself and found that many of the rack shirts an patterns could easily be altered to fit a pregnant tummy. Just a little elastic and some simple sewing and you've got a maternity friendly top.
Taggie Blanket – If you have a little one that likes to chew on things or just likes the texture of different fabrics taggie blankets are fun and easy. Even better they can be made with just a little time and scraps.
Pouch Sling – This is my favorite type of baby carrier right now. I sewed and cooked many hours with my niece in one when she was an infant and I find myself pulling out this pouch sling at the super market and while getting ready in the morning with my little guy. He's so cozy in it and it's easy to make, take a long and use.
Make Your Own Baby Clothes – I was not finding any baby boy clothes that I liked. I've spent the last few years making clothes for girls that it was really frustrating me. Then I was able to try The Lullaby Pattern collection from Peek-a-boo Pattern Shop with some fun boy friendly fabric and I was finally excited to dress my little boy. These little pieces look like they'd be hard but they were surprisingly easy and quick to put together!
Moby Style Baby Carrier – I like having carrier options and this moby style carrier keeps little ones nice and cozy. My nieces lived in these and they are so easy to make that there is no need to spend the big bucks to buy a name brand one.
I hope you'll check some of these out and pass them on to your prego friends. Also be sure to visit me over at my blog Rae Gun Ramblings.
Let's connect! You can also find me hanging out here.