Today we are pleased to welcome Kelly from
Sewing in No Mans Land
, one of my favorite blogs.  Not only are her creations stunning, but so is her photography!  Go take a look at her wonderful eyecandy!
________________________________
Good Morning ICandy readers! Kelly here from Sewing In No Mans Land. I am so excited to be here for Pink week! Having two girls means I am basically swimming in pink so I decided to make something for myself! I have been in dire need of an apron since all of mine are packed up somewhere in storage in Europe. I decided to visit my go to for inspiration for aprons, Anthropologie. I decided I wanted to make something similar to the Up Early Apron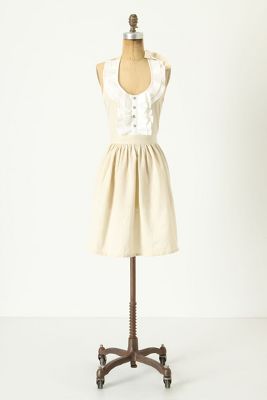 The original plan was to get some soft linen and dye it a pale pink, but I procrastinated and had to pick up some pink cotton fabric. I set off sewing and came up with the Bright Side Apron:
I decided to add my own little embellishments on the bottom (a lacy trim and two doilies). I also made it a bit longer then previous aprons which I will have to see if I like or not 🙂
I always wear heels while cooking, you too? Okay I NEVER wear heels when I can avoid it 🙂 If you would like to make one it is pretty darn simple!
What you will need:
Pattern for the top, neck ruffle, center ruffles and button panel found HERE
2 yards main fabric
1/2 yard complementary fabric
optional buttons
Embellishments of your choice
I only include the pattern to the top because everything else are simple rectangles the size of which depends on your liking (keep in mind more fabric = more fluff). First you will do what I call "prepatory" sewing. It is redious and rather boring but once done your apron will come together lickety split.
First you will need to make two ties for the waist. I cut wide strips and then folded them in half and sewed up the side, then turned them right side out. Once you have made those you will need to make two neck ties in the same manner. Next cut a waist band. Mine was 15 inches long by 4 inches wide. Now you need to hem your ruffles on both sides. Once you have all these ready to go we can start the real sewing!!
First we are going to tackle our apron bottom. I used 40 wide fabric and left it that width and then cut it so it would hit my knee. I then hemmed the sides and bottom.
At this point I decided to sew on some lace and used wonder under to attach two doile's to the bottom
Set this part aside. Now we are going to work on the top of your apron. You can decided if you want to hem your neckline ruffle, serge it or just leave it. On my first version of this apron I wanted the contrast of the ruffle with the serger. Take one of you apron top pieces and attach your two neckline ruffles. I attached mine both at the same time but you could do it one at a time if it makes you more comfortable 🙂
Topstitch down both sides of the center button panel, attaching it and the two ruffles to the front of your apron.
Now flip everything right side out and press.
At this point I attached my two waist ties to my waist band (I just laid mine right sides together and stitched up the side then opened them up and topstitched, but you can do it however you like. Once you are done with are going to attach the top of your apron to the waistband. Lay them right sides together and stitch along edge. Open up and press, topstitch if you like.
Now you are going to do the exact same thing to attach the waist band to the skirt. Lay them right sides together, stitch across and voila! You are done!
I think I will go back and make this also in the same fresh linen colors as the Anthro version but the pink will be fun for Valentines, Easter and Spring in general 🙂 Hop on over to
Sewing In No Mans Land
to check out the other fun tutorials and patterns!
Thanks so much for having me over!
Cheers!
Kelly