**This post was supposed to be up on Thursday and I just noticed it was still in draft! Sorry!**
Today we are featuring Casey, from her blog Elegant Musings.  
Casey is a lover of vintage, art, design, sewing, and more… and she blogs about it all.  
If you love to sew, you will find some excellent tutorials and techniques on her blog, along with other tips and tricks, even hairstyles.
She creates gorgeous vintage inspired clothing and accessories too!
Take a look at this cute 40's-50's Western Style Skirt:
This cute bow belt (tutorial):
and this gorgeous Mad Men-esque dress!
Without further ado….
**********************************************************************
Hello! My name is Casey and I blog over at Elegant Musings. I'm so excited to be participating in this sundress series; especially since I currently live in the "Sunshine State" (Florida), so sundresses are something that make up a large part of my summertime wardrobe.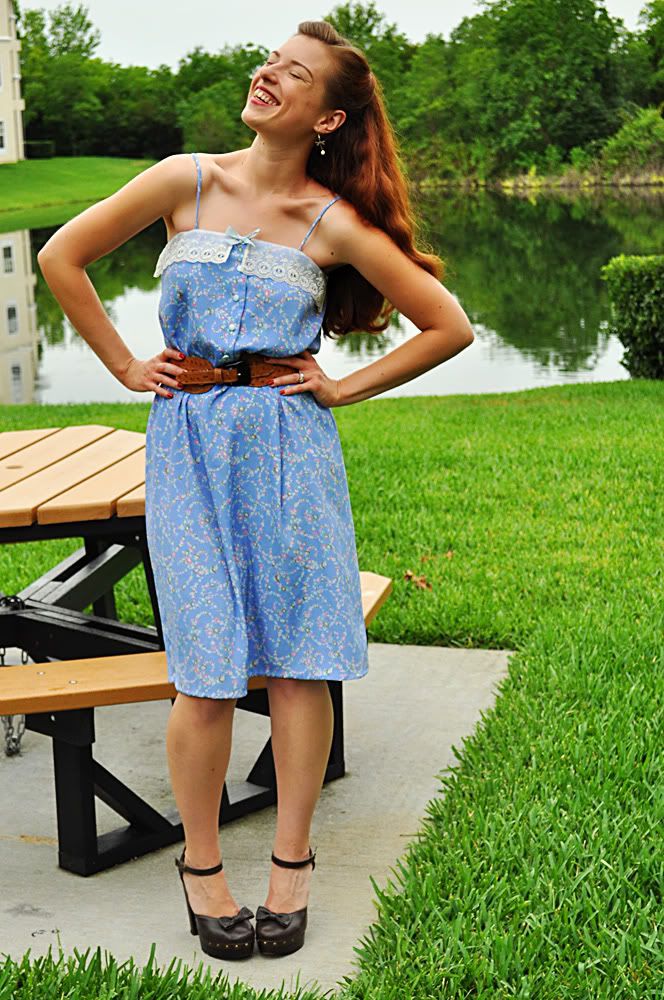 Making a dress from scratch is awfully fun, but sometimes it's just as fun to take an old dress and remake it into something fabulous! On a recent stop by my favorite thrift shop, I spotted this 1980s dress hanging on the rack. I loved the fabric, a pretty periwinkle floral print, but the overall style is a bit dated and lacking. Almost right away I knew it'd make a beautiful summer dress—and $2.50 was a price I couldn't argue with!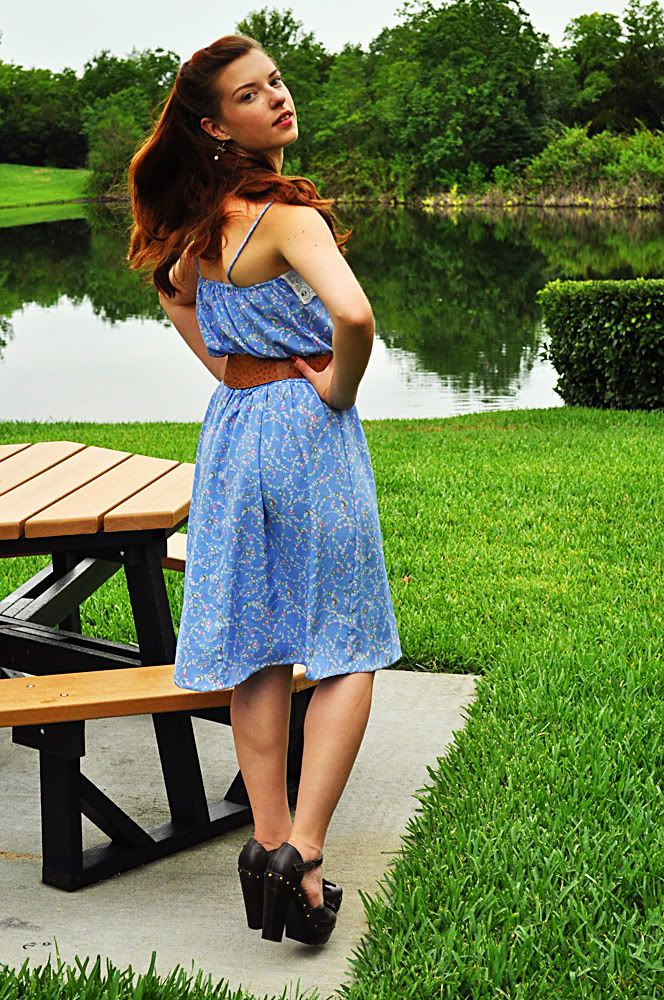 < p>Remaking a dress can sometimes be tricky; I like to say that it's 50% inspiration and 50% ingenuity. Deciding what style to refashion the garment into, taking into consideration your figure and garment needs, the fabric as well as the existing style takes a bit of thought and planning. This particular style though, is really easy to apply to just about any dress. Mine had a few features I knew I wanted to preserve: a button placket on the front and an elastic waist.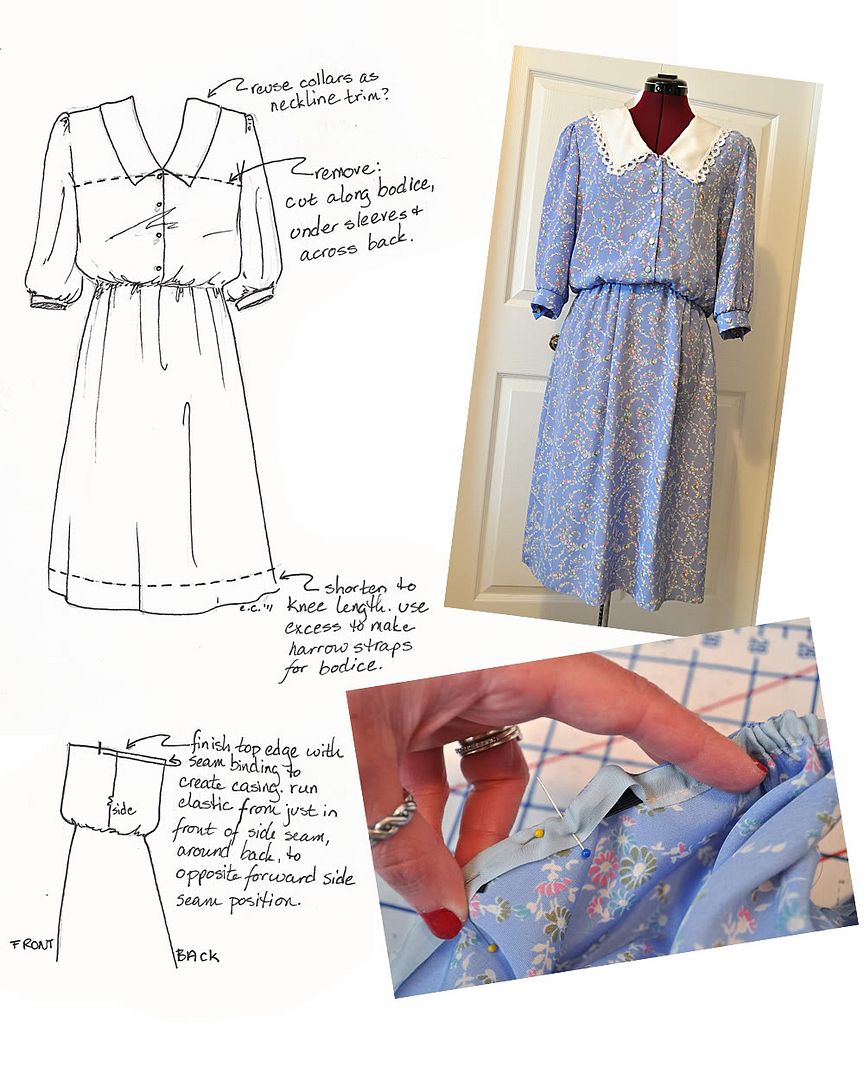 If you enlarge the image above, you'll see some notes I made about construction. I started by cutting the top of the bodice off along the front, under the arms and across the back. To finish the edge I used a bit of blue seam binding (rayon—it's really soft. Incidentally, it's a thrifted notion!), stitched to the right side with a 1/8" seam, then turned to the inside and stitched down. This also helped create a casing for the elastic to go through around the back (just make sure to leave an opening to get that elastic in!). I measured from under my arms, around my back and reduced that measurement by 3" for a snug fit. You can see in the diagram where I inserted the elastic just forward of the side seams, and secured it at either end by stitching over it multiple times.
Next up I shortened the dress to knee length (my favorite skirt length!) and used the remaining 2" of excess fabric to make spaghetti straps for the bodice. I used my Dritz loop turner tool for this—an invaluable gadget for turning narrow fabrics! (How I managed to sew for years without one, I'm not sure…) The straps were tacked in place by hand.
Originally I had intended to use the collar pieces, salvaged from the dress, to trim the upper edge of the front bodice. Alas, one of the collar pieces had a faint stain and so I opted to recreate the look using some vintage embroidered organdy trim in my stash. The finishing touch was a little bow using a small piece of the blue seam binding to decorate the top of the bottom placket on the front.
This piece reminds me of one of my favorite 1970s vintage sundresses—it's comfortable and didn't cost that much! Plus it only took a few hours to do; always a plus when it comes to refashioning a garment. Just goes to show you that it doesn't take more than a browse through your closet (or a trip to a second hand shop) to find a gem worth remaking into a summer-worthy frock!