I found Kayla's blog not too long ago, and it quickly became a new favorite of mine. She is a fashion blogger, with lots of extras on the side, like recipes, lifestyle, and DIY too!
Check out this amazing refashion using dye:
And this cardi makeover…(love those!):
And take a look at this hand-painted dress from scratch!
We are so excited to have you, Kayla!
**********************************************************************
As a freckled girl with a family history of skin cancer, sundresses are more about sun protection than exposure for me. I wanted something light and breezy enough to handle our not-for-wimps Arizona temps but with enough fabric to cover my delicate shoulders and burn-prone knees.
I'm an amateur seamstress so my dress had to be super simple. I spent weeks trying to figure out exactly what I was going to contribute to this fantastic series. Autie and Jen sent out an e-mail with the lineup a while back and I sort of froze. I am in serious company here, people. These girls actually know what they're doing, as opposed to me who just Googles things and hopes to find a decent tutorial and then flails through.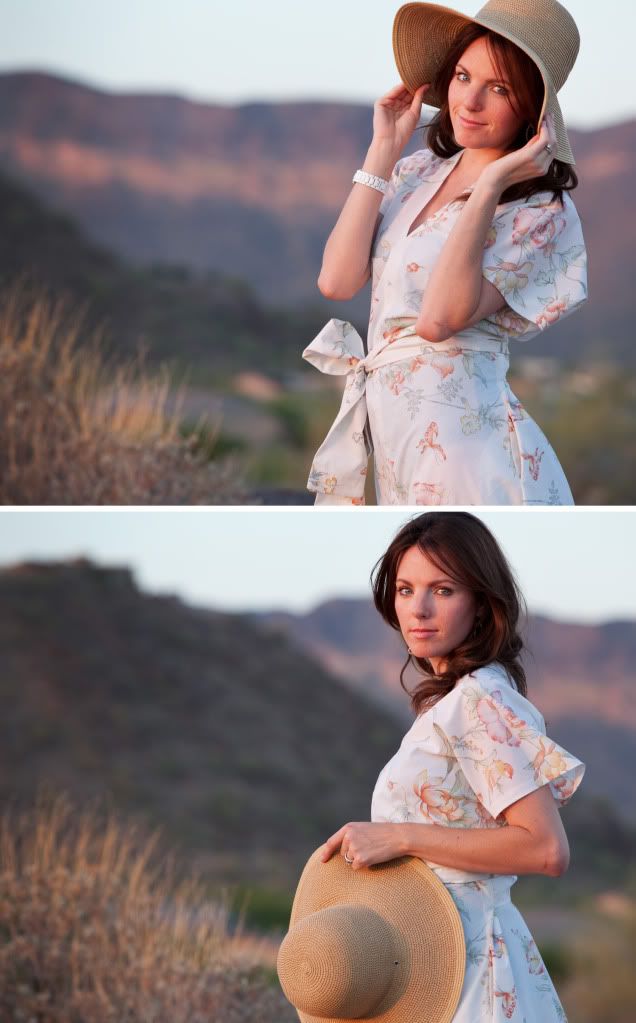 I ultimately decided on a project that doesn't require any skill beyond the ability to cut a rectangle and sew a straight stitch. My kind of project. When my husband, who lived in Japan for two years, saw my prototype he said, "It looks like a kimono!" And The Kimono Dress was born.
This is in no way the most original project out there. After I finished I found a couple online tutorials that basically accomplished the same thing and saw a handful with the same silhouette for sale in stores at the mall. So, you know. Great minds and all.
We're going to start with some measurements. They don't have to be exact! Just ballpark it. You can always trim it down later if your dress is too large.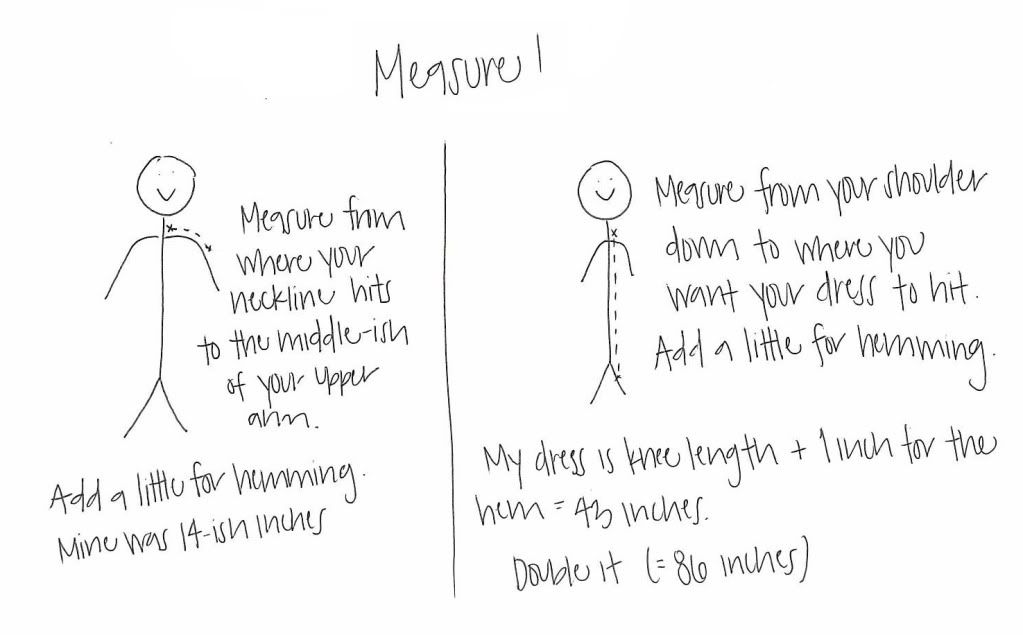 My shoulder measurement was 14 inches but, if I were to do it again, I'd use less. More like 12.
These measurements are the dimensions of your rectangle. You're going to want to cut two of them.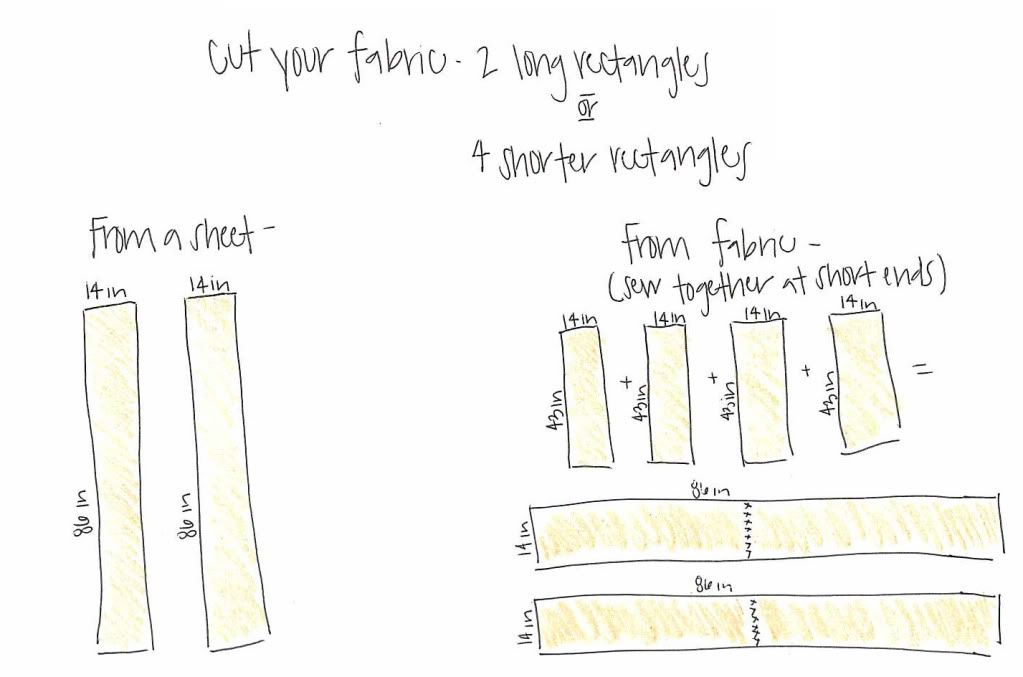 I spent $5 on a bedsheet at goodwill and cut it on the bias. I did this for a couple of reasons: 1. bias cut fabric doesn't fray, which means I could skip the seam finishing and save myself a lot of time and 2. I'd never done it before and I wanted to take a crack at it. If you don't cut on the bias then you're going to want to finish your seams.
If you're doing ties you'll need to cut a couple more rectangles. I cut four 5 inch x 48 inch rectangles then sewed them with right sides together, leaving one short end open, then turned and pressed them. Alternatively, you can use a piece of elastic stitched directly to your dress or threaded through a channel. Or just use a belt (I was tempted). My mom suggested a yellow or coral sash would have looked lovely with my dress and I kind of wish I had tried that. Whatever suits your skill level.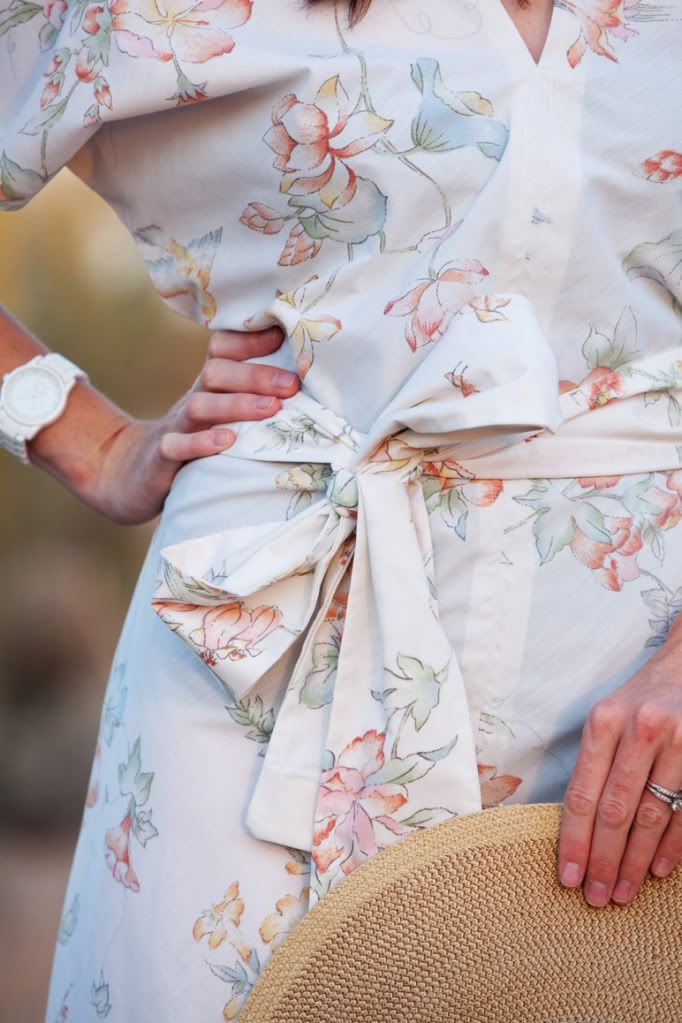 Put your 2 rectangles together, right sides facing. You're going to sew along the edge, leaving a 16 inch gap in the middle. If you want a more plunging neckline then you can leave a larger gap. If you're more conservative, go smaller (but make sure your head fits through the hole). Also, you want to use at least a half inch seam allowance so you can finish the edges around the neck.
Pardon my left handedness
Open your fabric and press your seam open. You can top stitch just around the neck hole or do like I did and top stitch the whole way up and down both sides of the seam with a little reinforcement stitching at the bottom of the V on both sides.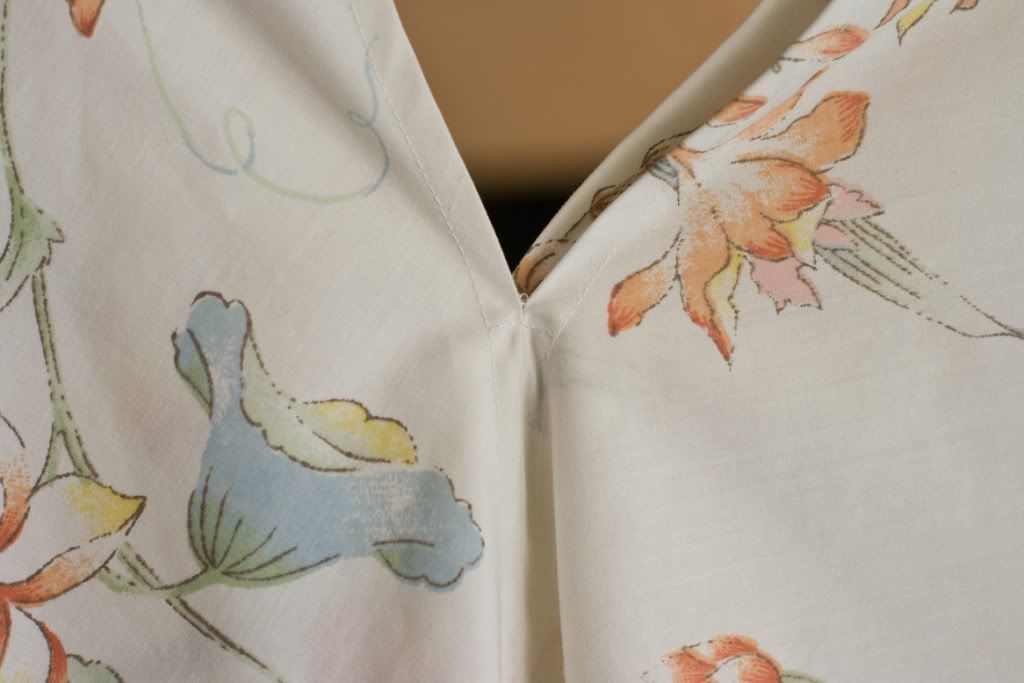 Outside the neck hole
Inside the neck hole (you can see my reinforcement stitching)
top stitching all the way down
Then, you're going to fold your rectangle in half, right sides together.
Measure 8ish inches down from the fold and start sewing. These are going to be your arm holes, so give yourself more room if you need it.
This step took me a couple tries. The first time I just sewed straight down and the end result was…not attractive. I ended up curving in a bit under the arm holes and I'm happier with it (I still could have taken it in more except I had already added a pocket and didn't want to redo it). Also, I stopped a few inches from the bottom of the dress so I'd have some slits. Trim off the excess fabric.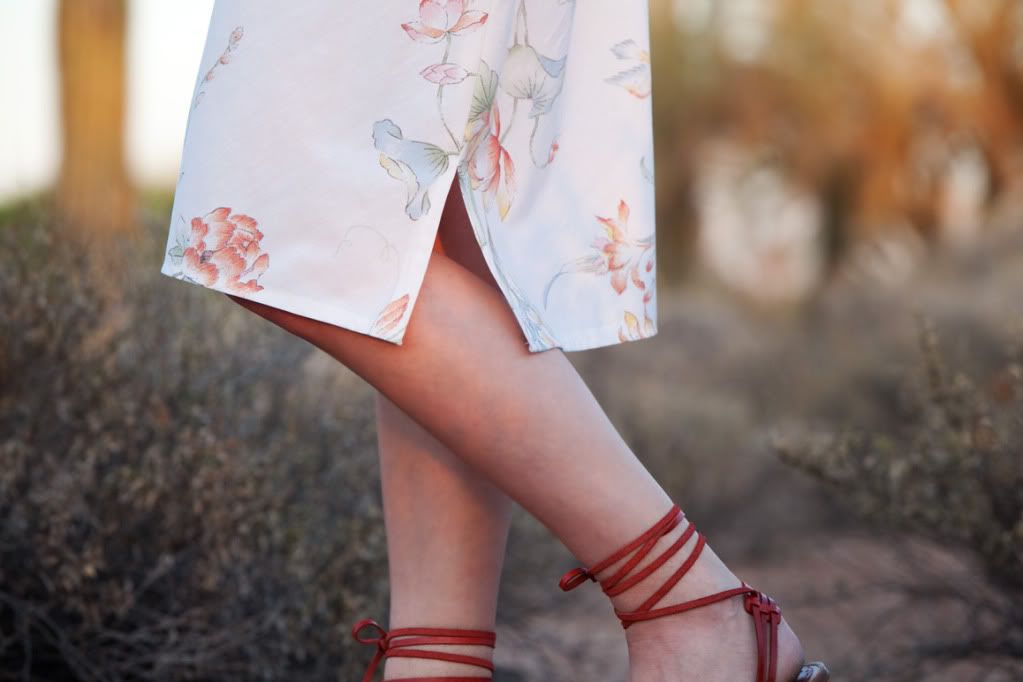 leg slits
With the dress inside out, fold the seam allowance up over the edge of the armholes and stitch. If you left slits at the bottom, fold the seam allowance under then stitch around.
Sleeves from the wrong side
Armpit with reinforcement stitching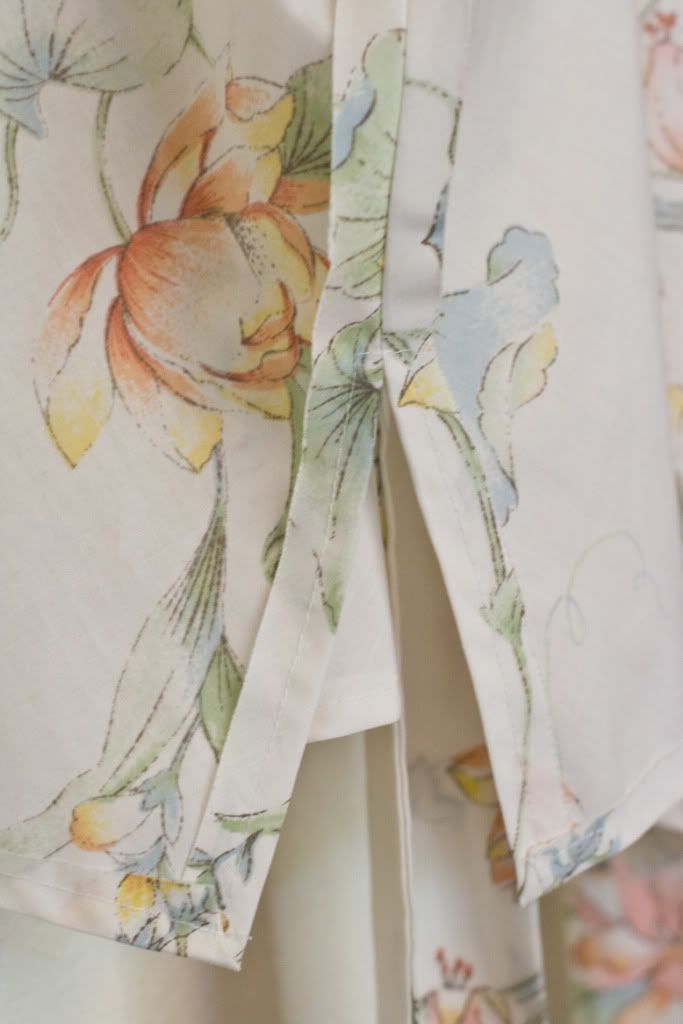 Slits from the wrong side
Hem, press and you're done!
Thanks to my lovely husband, Aaron, for being willing to trek up a desert hill with me while hauling his massive camera!